Talks will be held in the historical building of Universitat de Barcelona,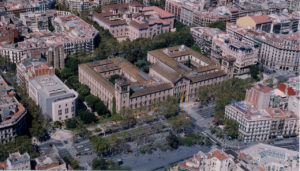 whose location in central Barcelona is Gran Via de les Corts Catalanes, 585 (see map here). Plenary talks will take place in the Aula Magna.
The program includes a series of invited plenary talks, as well as some special sessions open to all participants.
Confirmed invited speakers:
TIME
TUESDAY
WEDNESDAY
THURSDAY
FRIDAY
9:00
REGISTRATION
 
 
 
9:30
S. Rohde
E. Malinnikova
M. Lewicka
10:00
WELCOME
10:30
COFFEE BREAK
COFFEE BREAK
COFFEE BREAK
COFFEE BREAK
11:00
K. Seip
J. Bruna
P. Koskela
A. Cianchi
12:00
X. Ros-Oton
W. Gangbo
T. Orponen
C. Pérez
13:00
LUNCH
LUNCH
LUNCH
 
15:00
C. Demeter
X. Du
J. D. Rossi
16:00
COFFEE BREAK
COFFEE BREAK
COFFEE BREAK
16:30
PARALLEL SESSIONS
A. Poltoratski
PARALLEL SESSIONS
17:30
PARALLEL SESSIONS
 
PARALLEL SESSIONS
Short talks program:  schedule
Poster presentations: Wednesday, June 26th, during both morning and afternoon coffee breaks
A social program is being prepared for Wednesday afternoon. This includes:
a social dinner on Wednesday.
a guided tour of the UB historical building (Wednesday and Thursday, from 14:25 to 14:55)